So I'm back!
Right.
I recently paid a visit to newly opened shopping haven
Vivocity
. Because it's new half of Singapore's population flock there. We love our new shopping malls. Not too shabby at all. I think everyone delighted in the bigger Forever21. Hahaa.
The usuals - Mango, Zara, Topshop, Warehouse - were there. Spanish brand Trucco has a shop there as well.
The first GAP store opened in Vivocity. It was pretty cool. They had a nice collection of denim. I especially like their black denim. It's the perfect shade of dark with a slight sheen. Delish.
Another store spotlight would be Valerie - where I bought my dress for my Talentime :) Friendly helpful people there. I didn't want to look typical so I concluded to not wear dresses. But then I saw this one and I just had to have it. It's not typical, heh.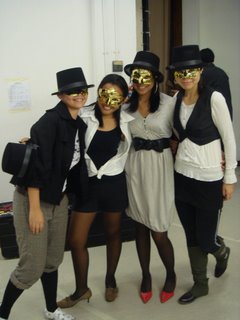 My super cool super sexy talentime group - ZIAR! They'll probably kill me for putting this up without permission :P but hey, faces are covered, heh. But yes, that is me in the red heels and silver dress that slightly bubbles from Valerie.
I'm going crazy going through sprees at taiwanese auction sites. I haven't even received my last order. But the things are so pretty - and cheaper. The catch: You wait a long, long time before you get your items. Usually that's a month.
Another early day tomorrow. Goodnight :)